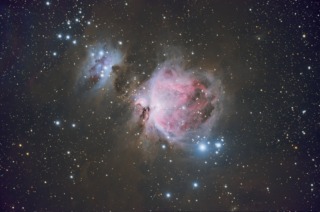 Constellation:

Orion

Right Ascension:

05h 35m 17.3s

Declination:

−05° 23′ 28″

Distance:

1,300 ly
Messier 42, The Orion Nebula is one of the most iconic deep sky objects and one of the brightest nebula, it can be seen as a fuzzy star in the sword of Orion figure. Illuminated by a central cluster of stars, the four primary ones are referred to as the Trapezium, for their shape of a trapezoid. As a stellar nursery it is in the process of forming new stars as pockets of the nebula collapse under gravity.
Details

Category: Nebulas
Telescope:

EDT 80mm Reftactor

Camera:

ZWO A071 Color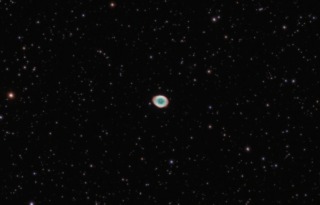 Constellation:

Lyra

Right Ascension:

18h 53m 35.079s

Declination:

+33° 01′ 45.03″

Distance:

2,567 ly
Messier 57 is a planetary nebula located in Lyra. A planetary nebula when a star nears the end of its life at the end of its red giant phase, the outer layers are blown off as the star shrinks down to be come a white dwarf. The exposed core of the star ionizes the surrounding gas causing it to glow. Planetary nebula typically only last a few ten thousands of years as the gas dissipates.
The blueish-green light comes from ionized oxygen, and the red outer layers come from ionized hydrogen. In deeper images it can be seen extending out much further. The central star shines at magnitude 14.8
Details

Category: Nebulas
Telescope:

Explore Scientific 127 Refractor

Camera:

ZWO 1600 MM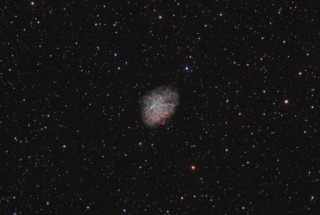 Constellation:

Taurus

Right Ascension:

05h 34m 31.94s

Declination:

+22° 00′ 52.2″

Distance:

6,500 ly
Messier 1 or the Crab Nebula, a supernova remnant from a star that went supernova in 1054 observed and recorded by Chinese astronomers. Being so bright, it was even visible in the day time. All that remains of the star is a neutron star that spins at 30 times a second that emits pulses of radiation. Such stars are called pulsars as the beam from their magnetic poles causes a pulse of radiation as they rotate. The expanding nebula is illuminated by the radiation outpouring from the pulsar and is expanding at the rate of 1,500 km/s.
Details

Category: Nebulas
Telescope:

Explore Scientific 127 Refractor

Camera:

ZWO 1600 MM